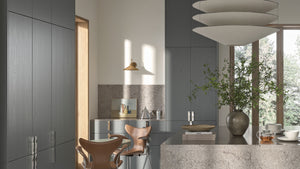 The harmony of authentic materials. The dynamic wood surface, complemented by reflective aluminium accents and textured stone.
Expressive wood grain
The ARK kitchen comes in three distinct stain shades in Ash: Misty Ash, Clay Ash, and Polar Ash.
For those aiming for a lighter overall look, two painted hues are available for wall cabinets: Natural White and Amager Grey.
A cohesive kitchen design
Base cabinets
Choose among three ash stains. T-shaped aluminum handles. The plinth in reflective aluminum.
Wall cabinets
Choose among three ash stains or two painted hues. No handles. Pop-up latches or 'overlong doors'.
Worktop
Choose between four worktops our architects have chosen to harmonize with the overall design.
Test the colour in your space with our colour samples.
Aluminium handle
Texture Meets Reflective
The sleek T-shaped handle in polished aluminium pairs seamlessly with the rich, textured grain of the stained ash doors, crafting a distinctive and captivating aesthetic.
Four harmonious worktops
Stones tailored to the look
Our architects have handpicked four worktop choices that seamlessly blend with the overall aesthetic. The recommended worktops are Helios, Turbine Grey, Carrara Marble and Moorland Fog.
Taps and sinks
Chrome is the perfect match
For your ARK kitchen, you can choose any tap and sink from our collection. We recommend chrome options to complement the harmonious ensemble.
IKEA frames inside
Superior value
Our kitchens use Ikea METOD cabinet frames as a base. Ikea's fittings and mechanisms are produced by the world's leading manufacturer, Blum.
We provide all the visible parts: doors, worktops, tap, sink, cover panels and plinths. 
Small ARK Kitchen
A.S.Helsingö 2890 €
Ikea elements approx. €972
Medium ARK Kitchen
A.S.Helsingö 4994 €
Ikea elements approx. €982
L-shaped ARK Kitchen
A.S.Helsingö 4364 €
Ikea elements approx. €980€
See more price examples here
What's the cost of my kitchen?
Finalized your IKEA plan? Get a price estimate for our products for the plan in less than a minute.