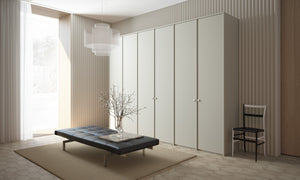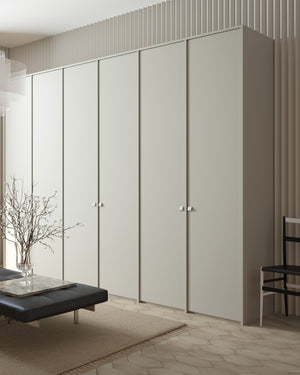 Ingarö embodies timeless style. With its understated look, it is easy to match with any space.
Local craftsmanship. Built on IKEA's PAX frames. Designs by Scandinavian creators.
Workmanship
Sleek flush-panel fronts
Ingarö's defining feature is its flush-panel door style. Available as matte painted, oak and walnut. The veneered doors have a 4 mm thick massive wood frame for extra durability.
Find your colour
Custom colours are available for an additional fee.
Test the colour in your space with our colour samples.
Product information
Create your own
Colours: Natural White, Afternoon White, Feather Grey, Ivory Beige, Amager Grey, Thermal Grey, Linen Brown, Sunday Greige, Dusty Rose, Ash Green, Granite Green, Petrol Blue, Natural Oak, White Oak, Smoke Oak, Natural Walnut.
Five widths: 100 cm, 150 cm, 200 cm, 250 cm, and 300 cm
Two heights: 201 cm and 236 cm
Two depths: 38 cm and 60 cm
Fronts: Sturdy, extra thick (19 mm) doors and panels. Add handles from our collection.
Ingarö is also available as built-in wardrobes.
Our handles
Pick your favourite
Our handles and knobs, designed by Scandinavian creators and artisans, are crafted locally in Finland by carving precious metals and by moulding clay with years of expertise and craftsmanship.

Each handle receives careful hand-finishing, ensuring lasting durability for decades.
See our handles
Test colours at home
With our color samples, you can easily find just the right shades for your home. Color sample box, €10. Free shipping.
Shop samples
Wardrobe collection
Browse all designs
Discover all our wardrobes designs built on IKEA PAX cabinet frames.
See all wardrobes