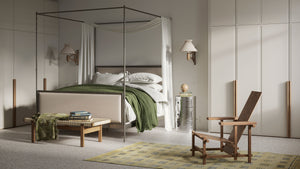 Organic shapes and honest materials
Storage that blend seamlessly with the decor
"We strive to create objects that become part of people's everyday homes and lives"
- Jonas Nordgren, Schauman & Nordgren Architects
Design & craftsmanship
Integrated oak handles
The expertly crafted details come together to form a elegant, cohesive whole. Lalax's organic oak handles blend seamlessly with the door's profile.
The 120 cm high solid oak handles are treated with wax for a delicate, tactile finnish.
Product information
Create your own
Four colours: Natural White, Ivory Beige, Ash Green and Feather Grey
Six widths: 75 cm, 100 cm, 150 cm, 200 cm, 225 cm and 300 cm
Two heights: 201 cm and 236 cm
Two depths: 38 cm and 60 cm
Door: Sturdy, extra thick (22 mm) doors with integrated handles.
Lalax is also available as built-in wardrobes.
To configurator store
Schauman & Nordgren Architects