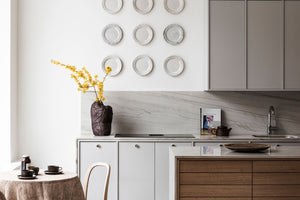 Timeless, yet contemporary, Ingarö is a versatile option for any space – big or small, old or new, bold or muted.
Sleek flush-panel doors
Ingarö's defining feature is its flush-panel door style. These 19 mm thick doors are available as matte painted, oak and walnut. The veneered doors have a 4 mm thick massive wood frame for extra durability.
Custom colours are available for an additional fee.
Test colours at home
With our color samples, you can easily find just the right shades for your home. Color sample box, €10. Free shipping.
Shop samples
Add character with handles
Our handles and knobs are made in Finland by carving precious metals and moulding clay with years of expertise and craftsmanship.

Each handle is individually inspected and finished by hand to ensure that precious metals and clay turn into products that meet the highest standards and last for decades to come.

Explore all handles
A worktop is a final piece that brings the kitchen together
An elegant, yet functional and durable worktop completes a kitchen. Natural materials and stone age well and bring harmony into a space. Our hand-picked selection of worktops consists of 22 patterns and materials, and are available in quartz, marble, ceramics, and granite.
Finish with a carefully selected sink and tap combination
We have curated a collection full of sinks and taps that are effortless to combine. Pick your favourites to create a kitchen with design details that you'll love for years to come. Our sinks and taps are designed to become functional and integral, yet beautiful parts of your space. 
Superior value
Our kitchens use IKEA METOD cabinet frames as a base. Ikea's fittings and mechanisms are produced by the world's leading manufacturer, Blum.
We provide all the visible parts: doors, worktops, tap, sink, cover panels and plinths. 
Small Ingarö Kitchen
Painted €2135
Oak €2801
Walnut €3331

Ikea elements approx. €972
Medium Ingarö Kitchen
Painted €3119
Oak €4074
Walnut €4926

Ikea elements approx. €982
L-shaped Ingarö Kitchen
Painted €3231
Oak €4333
Walnut €5268

Ikea elements approx. €980€
Create a unique kitchen with us
From idea to final product in a few steps with the help of our experienced product architects
How much does my kitchen cost?
Once your IKEA plan is ready, you can get a price estimate of your kitchen in only a minute.